Rich's 1969 Chevrolet Fleetside Shortbox Pickup (SS400) Project Progress Page
Please e-mail me with any questions. NOTE! Remove the exclamation points from the e-mail address to make it work for you!

---

I bought this truck to be a work truck to haul car parts (go figure!). It was a high price for what it is but since it is the same color my Chevelle will be I just had to have it. The engine was non-original so I replaced it with a 400 small block set up for towing. I like my musclecars restored not modified but I will modify the truck a little. I will eventually lower it a bit and fit a flush box cover. But I have to finish the cars first! Here's a few pictures as it is now. It was kind of dirty when I shot these so it can look a little better.

Though the truck is and will continue to be a modified vehicle, the history of these trucks is also interesting. Click here to see documents (manuals, advertisements) about the '69 Chevy pickups.

Please e-mail me with questions or comments! NOTE! Remove the exclamation points from the e-mail address to make it work for you!
---


The Progress Photos
Please click on a thumbnail photo to display a fullsize version of the photo.
Front shot. I put some SS badges on it for fun. / Rear shot. It was pretty rust free for this part of the country. The box has a few holes in the floor.
The engine. A nice stout 400 small block. / The engine again. It's fresh but could use a little cleaning right now.
The interior. I've already added factory guages with factory wiring to boot. I've also added power brakes and power steering since they were not on the truck to start with. HEI was added to the motor when I rebuilt it. I also plan to add disc brakes, a posi rear and a wood box floor (it's steel now).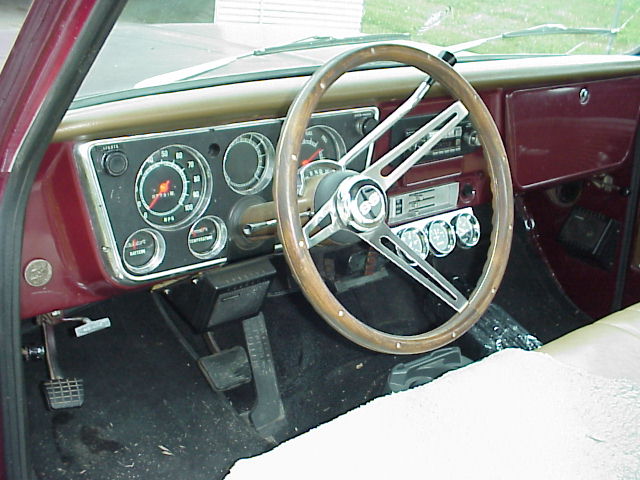 May/June 2000: The truck has received a good number of modifications recently. It has been lowered, received a new posi rear axle and now has disc brakes. Check out the results of this work.
December 2005: It's been a while since I've added any updates. The truck has remained a faithful workhorse but other projects seem to be taking priority most of the time. Cosmetically the truck remains the same but some comfort and performance upgrades have been made. Check out the engine upgrades and the addition of aftermarket air conditioning.