Bob's 1964 GTO Project Progress Page
Please e-mail me with any questions at
---

My cousin Bob bought this GTO in 1970 and has owned it ever since. Some time ago we began a restoration of the car after it had sat in his back yard for about 17 years. It looked quite rough but it was complete and fairly solid. We have the engine and drive train together and have made good progress on the body. We have yet to tackle the wiring, interior or chrome yet but we have some work underway and other work planned as finances allow. This one should be quite special

The car was originally Sunfire Red but the color actually looks like a dark metalic pink. That sounds pretty horrible, but it is actually quite attractive especially with the car's original white and red interior. We were able to get copies of the original build sheet from Pontiac Historical Services. This information pretty much proved the car as a GTO and as having the correct options and equipment installed.

The special features of course include the infamous Tri-Power 389 motor (three two-barrel Rochester carburators) which in 1964 was rated at 348hp. This was a relatively low option car. It also has a four-speed (no console) with a factory Hurst shifter, AM pushbutton radio, Saf-T-Trak (positraction), 1:3.55 gears. This one is so plain it originally had the small taxi-cab hubcaps! It was a two-door hardtop which is usually considered more attractive than the two-door post body style.

Please e-mail me with questions or comments!
---


The Progress Photos
Please click on a thumbnail photo to display a fullsize version of the photo.
Here is a picture of how the GTO looked in 1970 when Bob brought it home. The photo was kind of old so the color doesn't show up too well. The color is called Sunfire Red but to me it looks more like a dark metalic pink.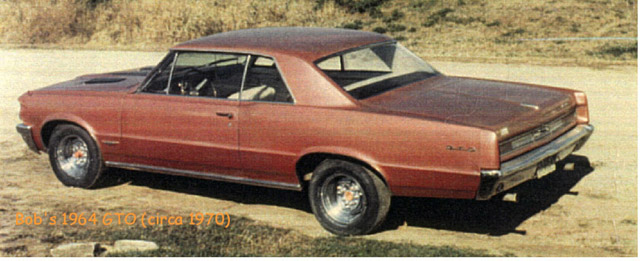 Here is a shot of that beautiful tri-power. It is freshly rebuilt but needs a little cosmetic work from being in storage so long. / Another shot of the tri-power. It has mechanical linkage since the vacuum stuff is junk. This is the only modification we plan to make.\
Here is the whole car as it exists right now. / Here is a close up of one of those now-oh-so-smooth quarters.
Here is the interior. Not much to look at. Yet.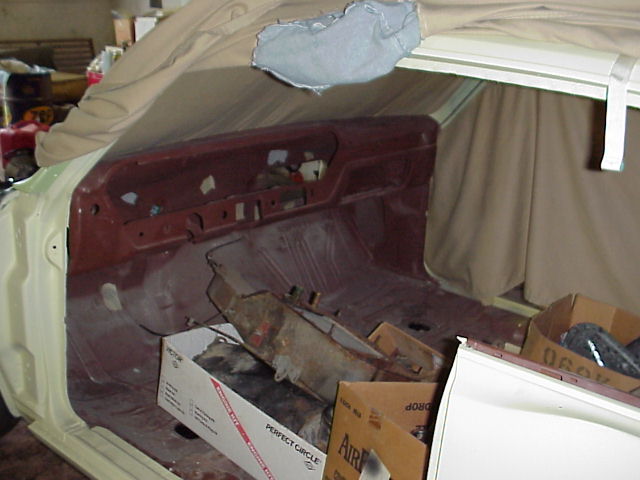 Here is a shot of those cool "sleeper" taxi-cab hub caps.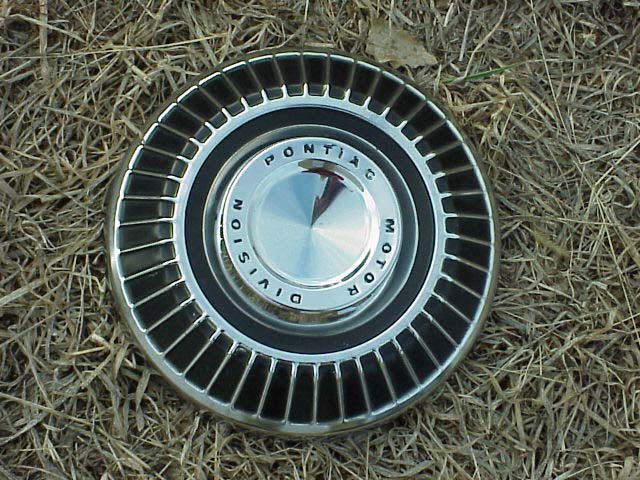 This is a scan of the paperwork we received from PHS. It's a real GTO and we can prove it!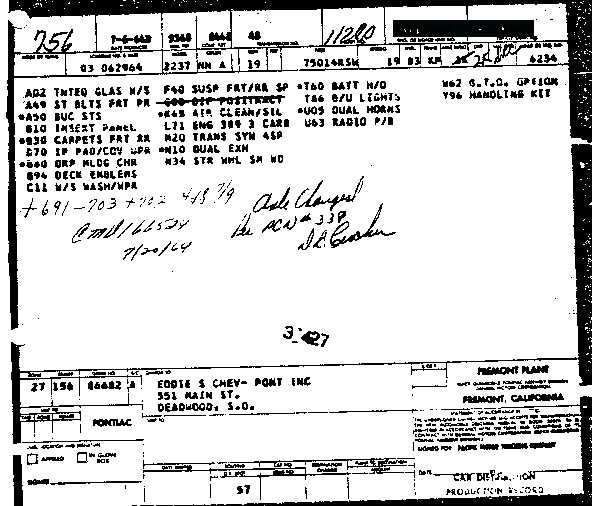 Going to the body shop.


All assembled.





Pq